Paper roll Christmas tree advent calendar DIY
You may not be thinking about Christmas yet (doesn't it still feel so far away?) but while Christmas is still a ways off, December 1st is creeping up. What does that mean? Well if you want to get a little crafty then it's time to start making your advent calendar! Or collecting the materials at any rate.
To create this adorable christmas tree advent calendar DIY, essentially all you need are toilet paper rolls, paper, tape and glue, plus your treats of course. It's much cuter than the 'punch out window' chocolate advents you get at the drug store, and probably tastier too!
So start collecting those paper rolls and let's get crafting to have a fun new way to countdown to Christmas.

You will need
24 toilet paper rolls
Green crepe paper, foil (as seen) or regular
Double sided tape
Number stickers
Decorative paper punched into 24 circles (optional)
Scissors
Hot glue gun and glue
Steps


1 For each paper roll, cut the following pieces of paper to size: 1 large piece at 10.2cm x 14.5 cm and 2 pieces 6cm x 6cm each
2 Place strips of double sided tape on the ends of each roll, and three strips on the back side of the large sheet of paper, two on each edge and one down the middle
3 Place your paper roll in the centre of a square and press the corners onto the double sided tape. Continue to do so all the way around so the crepe paper is adhered to the paper roll
4 Fill your tube with an advent treat. Repeat step 3 on the opposite end of the roll to seal the treat inside
Note: If you want to use your advent calendar year after year, leave out step 4. Closing both ends means you'll have to punch into your advent calendar each day. If you leave one side of the roll open, you'll just have to grab your treat from the back of the tree (and not peek at all the other goodies!)
5 Carefully roll the long piece of paper onto your toilet paper roll


6 Place a number from 1-24 on each paper roll. You can do this in any style you like. I used my scallop edge circle punch on sparkly white paper, hot glued it on then hot glued black sparkle number stickers. But if you want simple, you can easily just stick on some lovely number stickers
7 Use hot glue to assemble your paper rolls into a christmas tree. Place a bead of hot glue on the paper seam of the roll
8 Press together two paper rolls, seam to seam (you want to hide those!). Continue on in this pattern:

For parts where rolls aren't sitting directly on top of each other (numbers 1, 2 and 3 for example), place roll 1 on top first to gauge where to place the hot glue on roll 2 and 3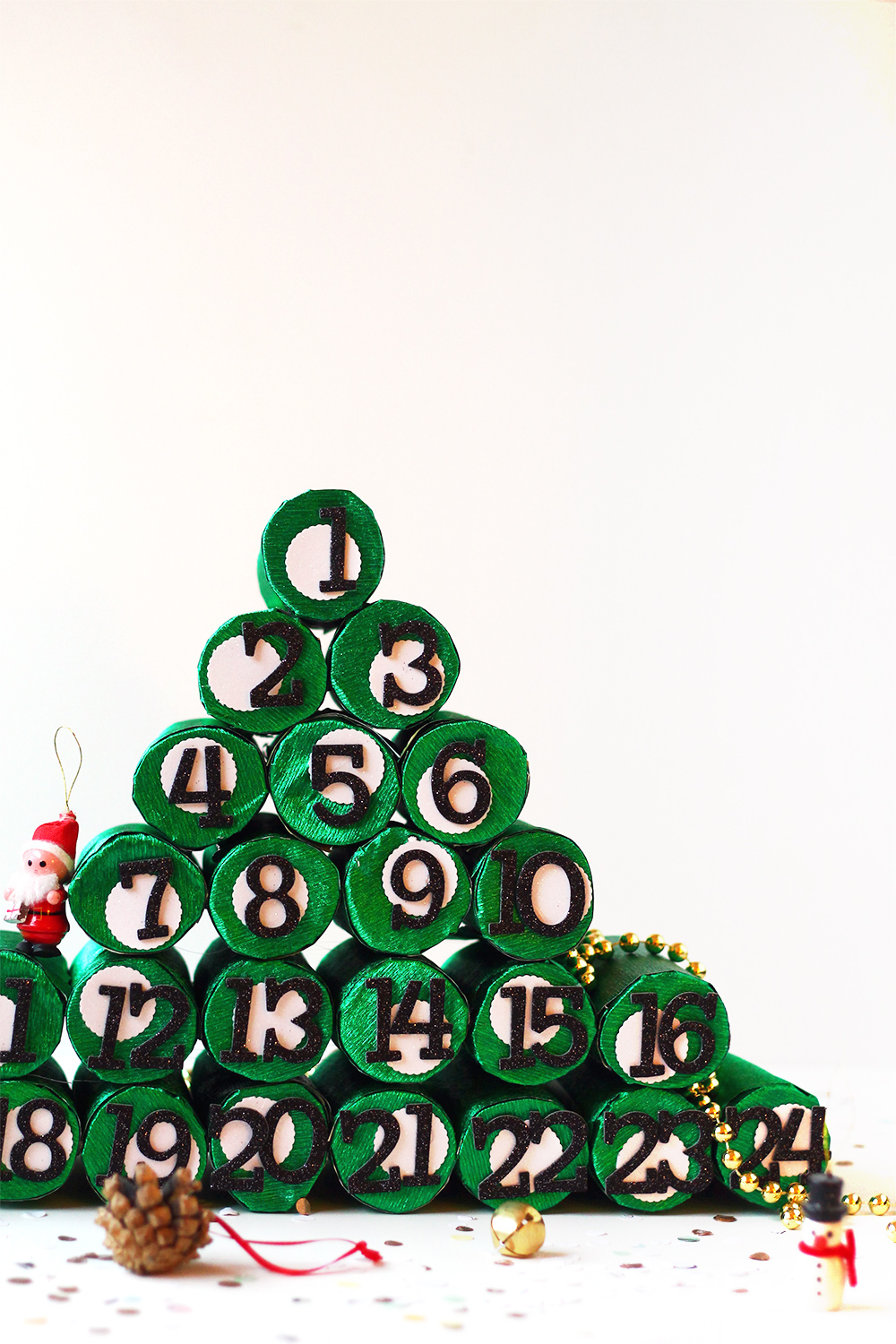 Useful links