DIY giant Jenga
When the weather is good, what better way to spend your time that by having some good old fashioned fun. Is your backyard ready for some serious lawn games?
Playing lawn games with friends is a great way to add extra fun and laughs to any outdoor event. This giant, outdoor version of the classic family game Jenga is cheap, easy to create, and a ton of laughs.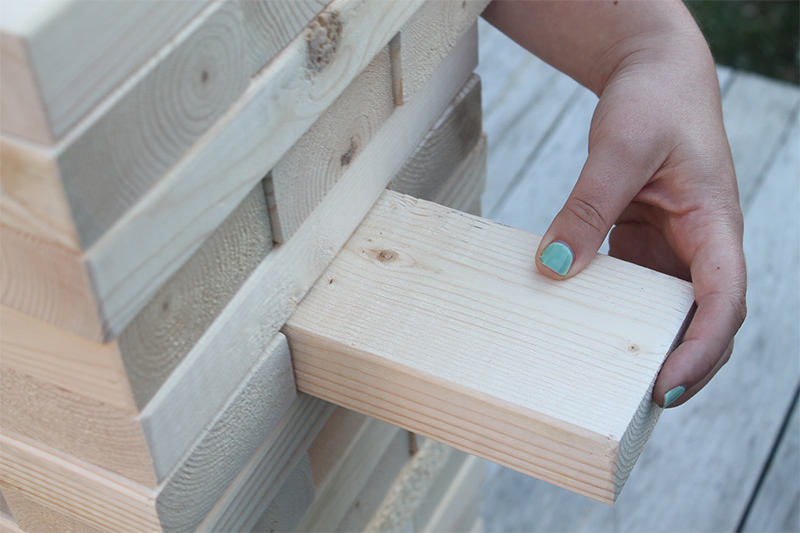 The total cost for this project was $20 for the lumber. Of course, you'll need the power tools to make this work, but if you or a friend have a mitre saw and an electric sander handy, you're good to go!

Materials
Mitre saw
Electric sander
6 – 8′ long 2x4s. Examine your lumber to ensure there are no curves. It should be completely straight.
Measuring tape
Pencils
Safety glasses, cause ya know, safety first

Steps
1) Measure your 2x4s into 10½" long pieces and mark with a pencil. You should get nine pieces from each 2×4.
2) Using your mitre saw, cut carefully along the pencil line. (This is where safety glasses come into play!)
3) Sand each piece thoroughly with your electric sander. This is the most time consuming part. The smoother the block, the easier it will be to play with.
4) Assemble on a flat surface with three blocks alternating rotation per layer. Have fun!
I chose to keep the lumber plain to mimic the original version, but you can certainly have lots of fun with some paint. Paint the blocks a variety of colours, or even just the ends. You could make the game more challenging by only being allowed to pull certain colours!

We found playing the old fashioned way thrilling enough. You know that little feeling of fear you get when playing Jenga? "Is this the one? Will this piece topple the entire tower????" Let me tell you, with giant Jenga, the stakes are even higher. Not only are you waiting for the tower to fall, but you just know it's going to make a huge kaboom! Crash! on the way down.
Word of advice: make sure there are no little tots running around the precarious tower.
7 Responses to "DIY giant Jenga"