Now without the Allen Keys: a kit home from IKEA?
And I wasn't the only slave to my nesting instinct.  The people I know
who used to sit in the bathroom with pornography, now they sit in the
bathroom with their IKEA furniture catalogue.
~Chuck Palahniuk, Fight Club, Chapter 5
There's something about the IKEA aesthetic: it's like a Rorschach test for North American concepts of identity.
Some think it's lean and clean and funky. Some think it's cheapo mass-produced crap. Some – from the comfort of their La-Z-Boy – will tell you it tries too hard, and it's weird.
Most of us east of Montreal will just tell you we can't get no IKEA way out here and then weep quietly. (Dear IKEA, please expand your online ordering options. Thank you).
Basically, you want to know whether somebody is your kind of people? It's not musical tastes or reading preferences or shared activities that'll give you the best possible read on whether somebody's worldview aligns with yours: it's their IKEA stance.
And now, you'll be able to tell some folks' IKEA stance from half-way down the block. Because those who like the look? Can now buy themselves an entire Ikea-style kit home.
IKEA homes have been available in Europe for awhile, and last week, the American company Ideabox released the first Ikea-designed kit homes in the US. The one-bedroom "Aktiv" model costs $86,500 and is delivered by flatbed.
Unlike the bookshelves, IKEA homes come mercifully pre-assembled. No Allen Keys required.
You choose your own cabinets, countertops, and flooring, all of which come pre-installed, and the home is partially furnished as well. The Aktiv is energy-efficient, with a sleek Euro-design feel.
The Aktiv, outside view: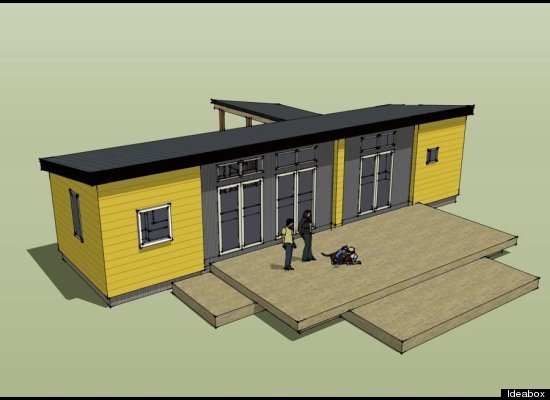 Photo courtesy of Ideabox
The Aktiv, inside view: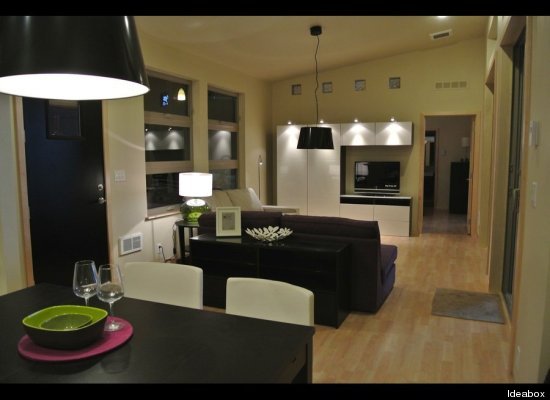 Photo courtesy of Ideabox
The Aktiv isn't sold directly through IKEA, but through Ideabox, which offers a number of options on the kit home front. Focused on efficiency and style, and for the most part on the "big living, small footprint" philosophy that Ideabox espouses, these homes are part of a new movement in pre-fab housing that takes a 180-degree turn from trailers and pre-fabs of yore.
Still. They aren't actually a whole new thing on the North American market.
***
In truth, kit homes have a long genealogy in this part of the world.
From 1908 through 1940, you could order yourself up a home through the Sears Roebuck catalogue. Marketed as "Sears Modern Homes," the kits were shipped by rail, and came complete with pre-cut lumber, nails, and fixtures: the early models were apparently fitted with gaslights, and plumbing kits could be ordered for extra.
The first Sears catalogue of kit homes offered 22 different styles, ranging in price from $650-$2500. FOR THE WHOLE KIT, not just the plans. I swoon. (According to the Wikipedia entry on Sears Modern Homes, $2500 in 1908 terms clocked in at just under $60,000 in 2008 terms…so still reasonable as compared to the mad housing market we've grown accustomed to over the last decade or so.)
Image courtesy of architecture.about.com
These first-generation kit homes needed assembly, and required more than just an Allen Key. They were often put up in "bee" fashion, or good old barn-raising style, by community members working together. Many were also assembled by contractors. But their ethic? Was largely DIY: Sears Roebuck advertised that "a man of average abilities could assemble a Sears Kit Home in about 90 days."
Given that the floor plans of some, like the Sheridan bungalow, for sale from 1925-29, are remarkably similar in style to the house we just bought – and at just $2,095, considerably cheaper! – I say bring back the kit home in all its forms!
What the Sears Modern Homes offered, a century ago, was the dream of home ownership made significantly less expensive via mass production, but with quality materials. The Sears kits had hardwood maple floors, cypress exteriors. There are many still standing today, like this charming Virginia specimen.
Photo courtesy of Wikihow
All in all, it seems like an idea whose time has come around again. Modular homes are slowly gaining traction, as is the tiny house movement. For those of us who may require more space, even Ideabox offers a three-bedroom family option. I'd love to see Sears get back in the game, if they could stick with the Arts & Crafts design motifs of their yesteryear offerings.
Or maybe move to shipping container homes?
There could be something for every taste, and a wider variety of budgets than traditional housing allows.
But I think the Ideabox-IKEA partnership may be an important step.
Because what made the Sears Modern Homes work so well – an estimated 100,000 or more sold in the 22 years they were marketed in the US – was that they capitalized on the ubiquity of the Sears catalogue. Everybody already had a catalogue: by offering houses in the catalogue, Sears began to make people believe they could have a house, too.
Not everybody's heard of shipping container houses, but everybody's got an opinion on IKEA, good or bad.
So I say good start, Ideabox & IKEA. I just hope we can actually make these puppies ubiquitous. Like, can we get these here in Canada soon, please?  And preferably east of Montreal?
3 Responses to "Now without the Allen Keys: a kit home from IKEA?"