Used Around Town June 2021
Used.ca & Ocean 98.5/103.1 JACK FM Drive Thru Bottle Drive for Island Prostate Centre – June 20
Save up all your refundable containers! Used.ca and Ocean 98.5/103.1 JACK FM are hosting a drive-thru bottle drive in support of Island Prostate Centre, Sunday, June 20th from 12:00 p.m. to 4:00 p.m. at The Archie Browning Sports Centre parking lot. Simply load up your bottles and cans in your car trunk, drive-thru and we'll grab them with no contact and no sorting. Just drop off and go! Your bottle donations will help locals in your community battling prostate cancer find life-changing help and resources. Huge thanks to our sponsors Esquimalt Recreation and Bottle Depot.
2021 Victoria Pride Week Festival – June 28 to July 4, 2021
The Victoria Pride Society (VPS) is excited to announce the 2021 Victoria Pride Week Festival from  June 28 to July 4, 2021. The festival will include online events to safely celebrate our local  LGBTQ2S+ communities and achievements, connect people and advocate for change through an intersectional lens. 
The Victoria Pride Week Festival will present six free events including virtual adaptations of long-standing in-person events like the Parade, Youth Pride Kick-Off Party, Pride in the Word and Big  Gay Dog Walk and new events like Queer Activism Night. Find out all the details here.
At Victoria Pride Society we envision a world free of discrimination, violence, and ignorance, in which all people, through education, equity, and safety are empowered to lead full, authentic lives. Our main objective is to inspire full inclusion within the Pride Community and society at large through visibility, collaboration, ongoing conversation, and celebration.
Your generous donations enable VPS to continue to provide support to numerous community services and initiatives, including; The VPS Youth Leadership Council, OutWrite eZine, Queer Youth Programming, Universty Schlorships, The VPS Mentorship Program, and Community Resources.
Play Fore Hearts Lottery in Support of Cardiac Care – Now until July 19
You can support cardiac care in local Victoria hospitals AND have a chance to win big by purchasing tickets for the 'Play Fore Hearts' 50/50 & Prize Raffle! 𝟓𝟎/𝟓𝟎 𝐑𝐚𝐟𝐟𝐥𝐞: Your chance to win half of the total 50/50 jackpot! The more tickets sold, the larger the jackpot grows. Tickets start at just $10! 𝐏𝐫𝐢𝐳𝐞 𝐑𝐚𝐟𝐟𝐥𝐞: Enter for a chance to win one of three Vancouver Island getaway packages. The grand prize: a one-week local vacation at Black Rock Oceanfront Resort in Ucluelet (generously supported by Escape Solutions)! Tickets start at $25. Purchase your tickets today: HeartsLottery.ca Since 1978, the Uplands Golf Club Annual Heart Tournament has raised more than $2.97 million for the Victoria Hospitals Foundation and funded leading-edge cardiac equipment. Players, sponsors, and donors have all helped make the Tournament the longest-running, most successful charity tournament in BC. Just like the Annual Heart Tournament, proceeds from both 'Play Fore Hearts' raffles support the world-class cardiac care teams at Victoria's Royal Jubilee Hospital. Thank you for playing and good luck! _______________________________________ 
Ticket sales end on July 19 at 11:59 p.m. and the draw will occur on July 21 at 11:00 a.m. Tickets may be sold and purchased only in BC and purchasers must be 19 years of age or older. Chances are 1 in 2,300 to win the Prize Raffle. BC Gaming Licence # 128463. Chances are 1 in 70,000 to win the 50/50 prize. BC Gaming license # 128462. Know your limit, play within it. 19+ to play. Problem Gambling Help Line 1-888-795-6111. www.bcresponsiblegambling.ca
Belfry Theatre presents Taking Shakespeare – June 8-13
"a delightful entry drug for audience members who haven't experienced Shakespeare, are intimidated by Shakespeare, or both" – Milwaukee Journal Sentinel
Taking Shakespeare, a sharp and engaging play about an academic and her young, unfocussed tutee, by John Murrell.
Murph is two months into his first university term and in way over his head. His mother, a dean at the university, has sent Murph to Prof for some private tutoring.
Prof is nearing the end of her academic career and unpopular with her students and fellow academics. Her only friend is one William Shakespeare and she is wary of sharing him with Murph, who thinks the titles of Shakespeare are too long.
Diving deep into Othello, Murph and Prof transcend their differences of age and isolation and discover a true, heartwarming friendship.
Tickets -250-385-6815 or  tickets.belfry.bc.ca.

Get free 1-on-1 support to reach your full potential! The Victoria Pride Society Mentorship Program matches LGBTQ2S+ individuals seeking non-judgmental support with established members of the community. Starting a new career? Thinking of coming out? Need someone to talk to about sexual orientation or gender identity questions? Apply to be a mentee! Successful applicants will be matched with a mentor who can provide a safe space to ask questions and get advice. Victoria Pride Society mentors are an amazing group of talented, ambitious, independent, courageous, and diverse individuals striving to fulfill VPS's vision in which "all people, through education, equality, and safety are empowered to lead full, authentic lives.".
Getting married? From officiants to photographers, we have you covered. Need your windows cleaned? Help is just a click away in Household Services. Is your puppy needing a spa day? Look under Pet Services for someone to pamper that pooch. From Health & Wellness to Entertainment & Culture, it's all here in one spot. And if you're a local LGBTQ2* business owner, and you want to be included in the VPS directory, all you have to do is complete your application here (https://victoriapridesociety.org/vps-business-directory-application/).  It's free to list!
Raymond James Father's Day Walk Run for Prostate Centre – June 20
Prostate cancer.
They may be some of the toughest words you'll ever hear.
Rest assured – you've come to the right place.
Island Prostate Centre (IPC) is the only non-profit that guides and empowers Vancouver Island men and their families as they navigate the uncertainty of a prostate cancer diagnosis, right from day one.
We uniquely offer the time and space you need to explore your options and human supports so you never walk alone.
We offer more than information. We provide guidance in decision-making and time and space to chat things through – room that can otherwise be difficult to find.
Because prostate cancer isn't a solo journey, we welcome you and your family – however you define it.
Esquimalt Farmers Market – April 1 – September 16
Esquimalt Farmers Market's 7th season runs on Thursdays from April 1- September 16 from 430-730pm in The Township of Esquimalt's Memorial Park at 1200 Esquimalt Road.  Join us in celebrating small business and supporting local food!
As we navigate through the COVID 19 Pandemic, understand that changes will likely happen often and abruptly. For this reason, it is best if you refer to our website regularly for updated information including times and locations.
As always, EFM is a pet-free market. Thank you for understanding.
As an essential food service, EFM is operating with the regularly updated guidelines as required by the PHO.
Please shop as a single person from your household whenever possible.
Please "shop don't stop" and avoid touching things before purchase to help keep our Market's Vendors and shoppers safe. 
Capital Bike Go By Bike Week – May 31 – June 6
Registration is now open for Go By Bike Week! This annual event (formerly Bike to Work Week) encourages anyone in Greater Victoria to give cycling a try for one week. Whether you're an experienced cyclist or have an old bike collecting dust in the garage, we want you to take part.
Why register? Hundreds of prizes are available for anyone who logs at least one bike ride from May 31 – June 6, including our grand prize of an E-Bike from Westshore Bicycles. You can join a team with your family, friends, or coworkers, and take part in a whole host of physically distanced bike activities.
Whether you're biking to work, school, for fitness, mental health, or to take a break from working from home, we want YOU to register for Greater Victoria's largest free event.
Register now at www.GoByBikeBc.ca and select "Greater Victoria" as your community."
Save the Date! Victoria Chinatown Lioness Club Paper Shredding Fundraiser – June 26
Our next fundraiser is a Paper Shredding event on June 26th, 11 am-2 pm at Save-On-Foods, Fort & Foul Bay parking lot. 
It is easy to forget to destroy old important documents, especially with tax season over. We can help you clear out those old paper files and ensure they are shredded safely. Funds raised will allow us to support many deserving organizations in our Community. Thank you to our sponsors for this event: Dave Burden, The Chambers Advisory Group, ScotiaMcLeod, a division of Scotia Capital Inc., Tony Joe, Prime Real Estate Team, Colleen Kovacs, Broadmead Legal Centre on the Avenue, and Used.ca.
Visit our website: VictoriaChinatownLionesslionsclub.ca to learn more and see who we have supported in the past.
The Victoria Chinatown Lioness Club was founded in 1991 and in 2020 became a full-fledged Lions due to new rules with Lions Club International Club. As we celebrate our 30th year, we are the same group of amazing women working tirelessly to serve our local community, particularly women and children's issues and needs through countless hours of volunteering and fundraising. We also foster participation in and contributions to Chinese Canadian heritage and culture. 
Art at the Lake – June 1-10
Find something fantastic and support a local community
When Art in the Vineyard had to be canceled for the second year, the organizers decided the most interesting items had to be offered in an online auction.  Art at the Lake replaces Art in the Vineyard, a lively show and sale of previously loved art and collectibles.
Art at the Lake runs from June 1 to a frenzied finale at 8 pm on June 10. "Most bids are made in the last hour before closing, as people try to be the last to bid", says Andrew Winger, owner of Steptoe Services, and donor of Steptoe's auction site. Registering early is recommended because it can take up to a day for registrations to complete.
Art at the Lake is hosted by The Prospect Lake District Community Association to improve the Prospect Lake Hall, one of the last community-owned halls in BC.
To pre-register https://maxsold.maxsold.com/register/      
To reach the auction site https://maxsold.com/pldca       
FIBA Olympic Qualifying Tournament – June 29 – July 4
This June 29 – July 4 in Victoria, BC, Canada's Senior Men's Basketball Team continues their path to Olympic Gold at the FIBA Olympic Qualifying Tournament. Canada will compete against Greece, China, Turkey, Uruguay, and the Czech Republic as they vie for a last-chance spot in the Tokyo Summer Olympics. Canada's roster will feature some of the nation's best players, including NBA talent. Fans can catch all the action on CBC and DAZN."
Habitat for Humanity Open a Door Art Auction – May 28 – June 13
Open a door to a brighter future!
A door represents transition as we move through our lives, opening up new possibilities and opportunities along the way. For local families in need of an affordable home where they live and work, Habitat can be the key to a new beginning.
This spring, Habitat for Humanity Victoria and Presenting Sponsor Pemberton Holmes are inviting members of the community, such as artists, designers, and other individuals to create their own unique vision of a future full of possibilities, using a door selected from the Habitat ReStore as a canvas.
Artist's creations will then be auction online between May 28 and June 13, 2021, at www.habitatvictoria.com.
This is a unique opportunity to own original artwork and help Habitat for Humanity Victoria to open a door for families in need of a safe, decent and affordable place to call home.
Vancouver Island Soccer League 
We have been in existence since 1895, providing an opportunity for organized, structured soccer for all adult men. 
Our categories; Competitive, Recreational, Masters, and U21. 
Feel free to follow us along on any or all of our social media paths; we love to include the communities in which our members live. 
Gameday tweets, interesting news, and league updates:
Executive Director Vince Greco; @vincenzo25
League highlights and shares; @VISLinfo
League Instagram; vancouver_island_soccer_league
Facebook; Vancouver Island Soccer League
We hope you enjoy exploring our website, make sure to come back for updates; visl.org
Oh and be sure to support our tremendous League Sponsors, a full listing under the first home tab on the website.
Goddess Run – June 5-27
The Goddess Run is celebrating 10 Years this June 2021. Usually, a live event in Langford, BC, the continuation of Covid restrictions has forced the event to once again be virtual. But the event will be kept unique with its incredible swag and Goddess community support like we normally do. 
You can choose from a 5K, 10K or Half Marathon – all for the same price and you can even do all three! You can participate on your own or as part of a team. Sign up a team and be eligible for prizes. Plus we've got something fun for your four-legged run/walk partner!
Looking for extra motivation? We have added virtual October and December runs as part of our Virtual Run Series to keep you running year-round!
We have also partnered with the Victoria Women's Transition House as our charity of choice. Join us as we raise money for this very vital charity. Register here.
Victoria Symphony Virtual Season: Victoria Goes Broadway – May 27 – June 25
Soak in the bright lights and sounds of Broadway as the Victoria Symphony takes you on a trip to the Great White Way. MC Sean O'Loughlin and conductor Giuseppe Pietraroia join forces for a magical evening of Broadway's greatest hits. Music from The Sound of Music, Les Misérables (Les Miz), Wicked, The Phantom of the Opera, and more will surely delight your eyes and ears. Catch the premiere May 27 @ 7:30 pm at victoriasymphony.ca and watch online until June 25, 2021.
The Greater Victoria Festival Society invites you: "DANCE ACROSS BRITISH COLUMBIA!" IN CELEBRATION OF BC'S 150TH Birthday! 
What is Dance Across British Columbia? 
DANCE ACROSS BC is a Virtual "Dance" Event that celebrates the spirit, vibrance, and resilience of our amazing Province during the year of its 150th Birthday! 
How does this work? 
Easy! Starting May 1, 2021, we want everyone – YES EVERYONE – to submit their own personalized video of how they celebrate living and working in British Columbia. 
Who can participate? 
EVERYONE! All ages, all levels, all cultures. Dancers, Non-Dancers, figure skaters, hockey players, rugby, lacrosse, soccer players, families, businesses, you name it! Doctors, Nurses, Teachers, First Responders, Hospital Staff, Restaurant workers, Cashiers, truck drivers, Solos, Duos, Trios, or with your quarantine bubble family. We would love to have as many as possible join us. It's FREE but Businesses will be charged a small fee to assist in facilitating the video and editing. 
What exactly do we do?! 
Good question! Think of Tik Tok and how fun those videos are to watch. We want you to videotape a celebratory "dance" and submit it to our campaign. For example, if you are a figure skater, film your best spiral, axel, or triple lutz. Hockey player – Film your best slap shot. Basketball players – film your best Slam Dunk. Desk Job – show us how you file! The video montage will be set to a song, "TBD" so you don't need music in your video! 
Pertinent Details: 
Video: Record a 15-20 second video on your mobile device in horizontal mode only. NO MUSIC IS REQUIRED 
Submission: send to danceacrossbc@gmail.com with Subject Line: "Dance Across BC Video" Details: Be sure to include your IG handle and Tik Tok format! 
Deadline: July 15, 2021 
Airing: BC DAY!! August 1, 2021 
Victoria HarbourCats Baseball – WE WILL BE BACK!
Despite the cancellation of the 2020 and now 2021 seasons due to COVID-19, the Victoria HarbourCats are gearing up for what will be a celebratory season and a return to West Coast League baseball in 2022.  Season tickets, 10-game flex packs, gift cards, and merchandise are now on sale through the HarbourCats offices at 101-1814 Vancouver Street, or by calling 778-265-0327.  Merchandise, gift cards, and 10-game packs may also be purchased online through "The Cat Shop" at https://victoria-harbourcats-official.myshopify.com/.  
Try us again for the very first time! Help support the best summertime sports entertainment in the City and lock in your 2022 tickets today!  Offices open 10-5 Monday to Friday.   
Note: Thanks to all our fans who purchased 2020 and 2021 game tickets or flex-pack vouchers!  Please keep them in a safe place and we will happily exchange them for tickets or vouchers to any regular-season game in 2022 once the schedule has been released, likely in the fall of 2021.
For more information, follow the HarbourCats at www.harbourcats.com  or at our Facebook page at https://www.facebook.com/groups/harbourcats.
Victoria Symphony presents Yoon Plays C.P.E. Bach – May 13 – June 11
May 13, 2021 @ 7:30 pm – June 11, 2021, http://victoriasymphony.ca
A transitional figure between the Baroque and Classical periods, C.P.E Bach was J.S. Bach's most celebrated son. His writing is wildly expressive and his Cello Concerto in A minor as played by VS principal cello Brian Yoon demonstrates why he had such a profound effect on the composers who followed him. Completing this program is Telemann's Orchestral Suite: La Bizarre in G major.
Toonies for Tutoring – Ongoing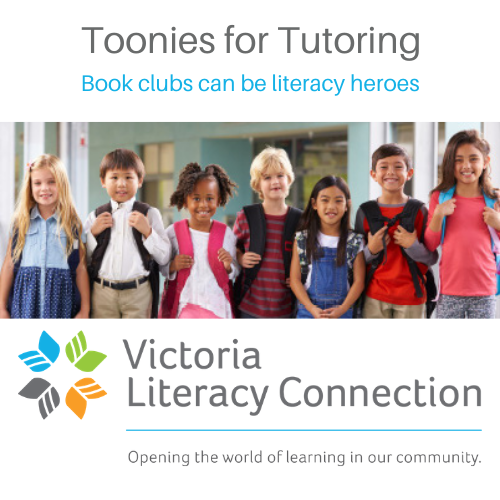 The Victoria Literacy Connection invites book clubs to participate in their Toonies for Tutoring fundraiser, an easy way for book clubs to become literacy heroes. 
To participate, Book Club members donate a Toonie at every book club meeting; the Victoria Literacy Connection uses those funds to help provide literacy tutoring to a wide range of learners.  Reading challenges, "fines" for not reading the book, and silent auctions are just some of the fun ways book clubs can increase their donation.
Click on the link below to read more about the fundraiser and download a PDF. 
The Victoria Literacy Connection provides free literacy programs for children, youth, and adults all over Greater Victoria.  1 in 5 Greater Victoria adults need better literacy skills to fully participate in society. And many children need better literacy skills to keep up in school. 
https://www.victorialiteracyconnection.ca/toonies-for-tutoring-fundraiser/     
Crime Stoppers Shred-a-thon – June 5
If you shred it, Criminals can't get it!  If you have personal or business paperwork that you need shredded, please stop by Tillicum Mall near Old Navy on June 5 (9:00 am-12 noon). We will shred your paperwork for a minimum donation of $10.00.   All funds raised go directly to Greater Victoria Crime Stoppers, who work to help keep our communities safer.
SKAMpede – July 16-18
Theatre SKAM's annual live performance SKAMpede Festival returns to Victoria this summer – and it's their biggest one yet! Featuring 15+ performance companies, the July festival will consist of tours of short, family-friendly theatrical shows along the Galloping Goose Trail. Audiences take in the spectacles via cycling or walking tours in small, distanced groups. Expect a little bit of everything – comedy, dance, historical commentary, avant-garde, and more! If you are interested in purchasing tickets, keep an eye out on the SKAM website or social media in mid-June, when tickets go on sale. The festival takes place July 16-18. Find out more at skam.ca/skampede.
Virtual Teeny Tiny Garden in support of Victoria Hospice – June 13 – July 31
Join us for a glimpse into some of Victoria's best backyard gardens on Victoria Hospice's second virtual Teeny Tiny Garden Tour starting Sunday, June 13.
Local Victoria gardeners have opened their gates to delight you with horticultural surprises you can enjoy right from home – rain or shine. Find ideas and inspiration for your own garden or simply soak up the beauty!
The virtual garden tour is free, but we encourage you to place your order for the 2022 Teeny Tiny Garden Tour Calendar featuring exquisite photos of local gardens to inspire you all year long. You can also make a tax-deductible donation in support of compassionate end-of-life care. 100% of funds raised support Victoria Hospice.
Join the tour at victoriahospice.org
Victoria Symphony presents PHAEDRA & SERENADE – June 10 – July 11
Immerse yourself in the passion.
A two-night première of Benjamin Britten's small-scale epic masterpieces. Conducted by Maestro Timothy Vernon, this dynamic double-bill performance from Pacific Opera Victoria and the Victoria Symphony features mezzo-soprano Allyson McHardy, tenor Colin Ainsworth, horn player Alana Despins, and musicians of the Victoria Symphony.
Phaedra premieres Thursday, June 10 | 7:30PM 
When forbidden passion cannot stay silent, a tragic hero journeys through blame and lust on her tempestuous search for serenity. Britten's last vocal work covers the range of a full-scale opera in 15 minutes, including "…some of the most delicate orchestration ever written." Bernard Holland, The New York Times. Phaedra is a musical ascension to annihilation.
Serenade for Tenor, Horn and Strings premieres Friday, June 11 | 7:30PM  
An evocative dialogue between horn and voice guides you through the sparkling glory of day and the seeping horrors of night. Powerful music shimmers with gemstone colours as the wild, poetic splendor of nature is celebrated through this eight-movement anthology.
Stream for free at victoriasymphony.ca | pacificopera.ca starting June 10. Donations gratefully accepted.
PHAEDRA & SERENADE. Filmed on stage to take over your screens June 10 – July 11, 2021.
Phaedra: https://youtu.be/qI5kFSb0ec8
Serenade: https://youtu.be/F21YQBZNDwc
My FED Farm campaign
The Food Eco District will be providing approximately 500 gardens kits to Greater Victoria residents facing barriers to healthy, affordable food for whatever reason— those living in low-income housing, senior centers, immunocompromised households, laid off workers, frontline workers, individuals with disabilities, single parent households, First Nation communities, etc. 
We understand the affordability of starting a garden can sometimes be a barrier, thanks to our generous sponsors, partners, and community members we are able to provide these gardens on a sliding price scale. My FED Farm garden recipients will be able to donate what they can for their garden kit, if finances are tight, a recipient can receive their garden at no cost to them. 
Donate to our crowdfunding campaign at: https://fundrazr.com/myfedfarm2021
Sooke Fine Arts Show – July 23 – August 2
Celebrating its 35th anniversary in 2021, the Sooke Fine Arts Show is one of Vancouver Island's premier summer arts events. The virtual 11-day art show will display 350+ works of original island art online at sookefinearts.com, along with a youth art show with works from emerging local artists. 
All artworks, whether paintings or sculpture, glass, ceramics or fibre arts will be presented on a free, interactive, professionally designed platform that simulates a physical walk-through gallery experience. Visitors can also enjoy virtual artist demonstrations and talks, an online auction, activities for kids, and entertainment by local musicians. 
Home is where the art is, and the annual Sooke Fine Arts Show brings the best into your home. Follow us on Facebook and Instagram for regular updates! https://sookefinearts.com/
Greater Victoria Shakespeare Festival presents Cymbeline – July 3-18
CYMBELINE, Shakespeare's epic tale of romance and adventure, directed by Karen Lee Pickett, runs July 3rd to 15th at the Horticulture Centre of the Pacific July 16th to 18th at Esquimalt Memorial Park. Tickets are limited, and on sale now!! Head to 
www.vicshakespeare.com
 to book yours.
When Imogen's father – Cymbeline, King of Britain — wrongfully banishes her soul-mate, the princess must embark on a near-mythic quest to prove her fidelity, escape her stepparent's dastardly plot, and reclaim her love. Here, the improbable becomes probable as kind strangers, dastardly villains, mysterious potions, mistaken identity, long-lost princes, and the clashing of armies pave the high road to reunion, forgiveness, and for some, happily ever after.
Help Fill a Dream and Golf for Kids 50/50 For the Kids – On now until July 21
Over the past two decades Golf for Kids and its feature charity, Help Fill A Dream, have built an incredible partnership. By working together, they continue to transform the generosity of our community into meaningful impact for local kids and their families.
You can support Island Kids and have a chance to win half the jackpot by purchasing tickets for the '50/50 For the Kids'. The more tickets sold, the larger the jackpot grows.
Ticket prices are:
3 for $10;
10 for $25;
30 for $50;
90 for $100.
It's important for Help Fill A Dream and Golf for Kids to continue their partnership to support local kids and families. Please contribute to our 50/50 for the Kids! Together we can make a difference! Tickets go on sale on Thursday, June 10, 2021 at noon and sales end on Wednesday, July 21, 2021 at midnight. The draw will occur on Thursday, July 22, 2021 at 10:00 a.m. Tickets may be sold and purchased only in BC and purchasers must be 19 years of age or older. BC Gaming licence # 128558. Know your limit, play within it. 19+ to play. Problem Gambling Help Line 1-888-795-6111. www.bcresponsiblegambling.ca Thank you for playing and good luck!
Max Furniture and Maximum Express drive-through food drive for Cool Aid Society – June 19 
Too many people in our community face food insecurity every day. For one day  only, Max Furniture will be collecting non-perishable food and grocery gift cards for distribution  to several Cool Aid housing, shelter, and support services locations. Drive-through, drop-off; no  contact required. You can also help people who are hungry by supporting Cool Aid's grocery program at  www.coolaid.org/giftcards.
Date:
Saturday, June 19, 2021  
Time:
10:00 a.m. to 2:00 p.m. 
Location:
3460 Quadra Street
The Victoria Cool Aid Society believes that everyone deserves home. We create opportunities for  people who are homeless or living in poverty. We make a difference through housing, health  and dental care, community, and emergency shelters. Founded in 1968, Cool Aid helps 12,000  people in the Capital region every year, at 20 locations in Victoria, Saanich and Langford,  including more than 7,000 Community Health Centre patients.  
Easter Seals Campership Disc Golf Tournament – July 17
Easter Seals is a trusted charity and established leader in supporting the disabled community.  Since 1952, we have helped individuals with life's challenges and given them tools to build their self-esteem, self-confidence and sense of independence.  Easter Seals Camp Shawnigan has been giving individuals with disabilities a fully accessible experience at camp where they learn life-changing skills, gain life-long friendships and most of all – have fun!  
Registration is $40 per person and includes one (1) disc for each participant!  Once registered you'll have your own fundraising page to share with your family, friends and colleagues. There is no minimum fundraising.   Click here for more information and to register.  
Victoria Symphony presents Tam Plays Mendelssohn – June 24 @ 7:30 p.m.
Farrenc – Overture No. 2 in E-flat major
Mendelssohn – Violin Concerto in E minor
The last concert in the Victoria Symphony's 2020/21 Virtual Season closes as it opened with a program featuring Concertmaster Terence Tam. Mendelssohn's Violin Concerto is an undisputed romantic masterpiece that is paired here with a work by Louise Farrenc, a French composer of the same period as Mendelssohn who rejected Parisian tastes and pursued instead the ideals of German absolute music. Her Overture No. 2 in E-flat major, Op. 24 is clearly influenced by Beethoven and evidence of why her music was performed widely in Europe during her lifetime. This concert premieres Thursday, June 24 @ 7:30 pm at 
victoriasymphony.ca
 and is available until July 23, 2021.