Best Valentine's Day blogs of Used.ca
Valentine's Day is around the corner and you might be in need of some good ideas. Don't sweat, we compiled a list of our top 10 blog posts from the past years to make your life a little easier.
Cards, cards, cards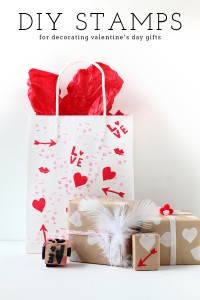 Every year we struggle to come up with a good idea, especially when the kids want to bring the coolest cards to school while you're still wondering what to do with all the old cards that piled up from past years.
Christmas and Valentine's Day share some common traits, so you can easily get crafty and recycle old Christmas cards to make beautiful Valentine's Day cards like Carly did in this blog post, recycled Valentine's cards.
Using stamps is another great idea for creating beautiful cards, gift bags and wrapping paper. This DIY Valentine's Stamps tutorial makes crafting easy with step by step instructions and beautiful images.
Now that you have a great looking card, give it some personality with a message or, for your adult friends, a cheeky phrase. Take a look at these vintage Valentine's Day cards for some inspiration.
Budget friendly ideas
Our Valentine's on a Shoe String blog post shares some great affordable ideas of how to make this Valentine's Day a special one.
Food is the way to anyone's heart
Food! We can't think of three words that sound better than "Breakfast in bed." This simple recipe has amazing french toast.
And for the kids? As they're bound to get enough candy to last a lifetime at school, why not bring some healthy Valentine's snacks to their school potluck?
Babysitters and dinners out are expensive on February 14th. Our blogger Carly is the money saving queen, so take a look at her Valentine's meal on a budget, for a beautiful at-home meal idea for just $25 including wine.

Help! Not another tie/scarf!
A little stuck on gift ideas?
These top 5 Valentine's Day gift ideas for moms may be a little unconventional but they will be so appreciated.
A great upcycle idea is this create your own story this Valentine's Day which takes an old window and turns it into picture frame.
For those of you that still hope to find something extraordinary and special, yet easy on the wallet and preferably eco-friendly, how about these great ideas for second hand Valentine's gift ideas?
For more Valentines ideas, check out our Used.ca Pinterest page and sign up to our UsedNews newsletter to stay in the loop.
Useful links